The hills are ablaze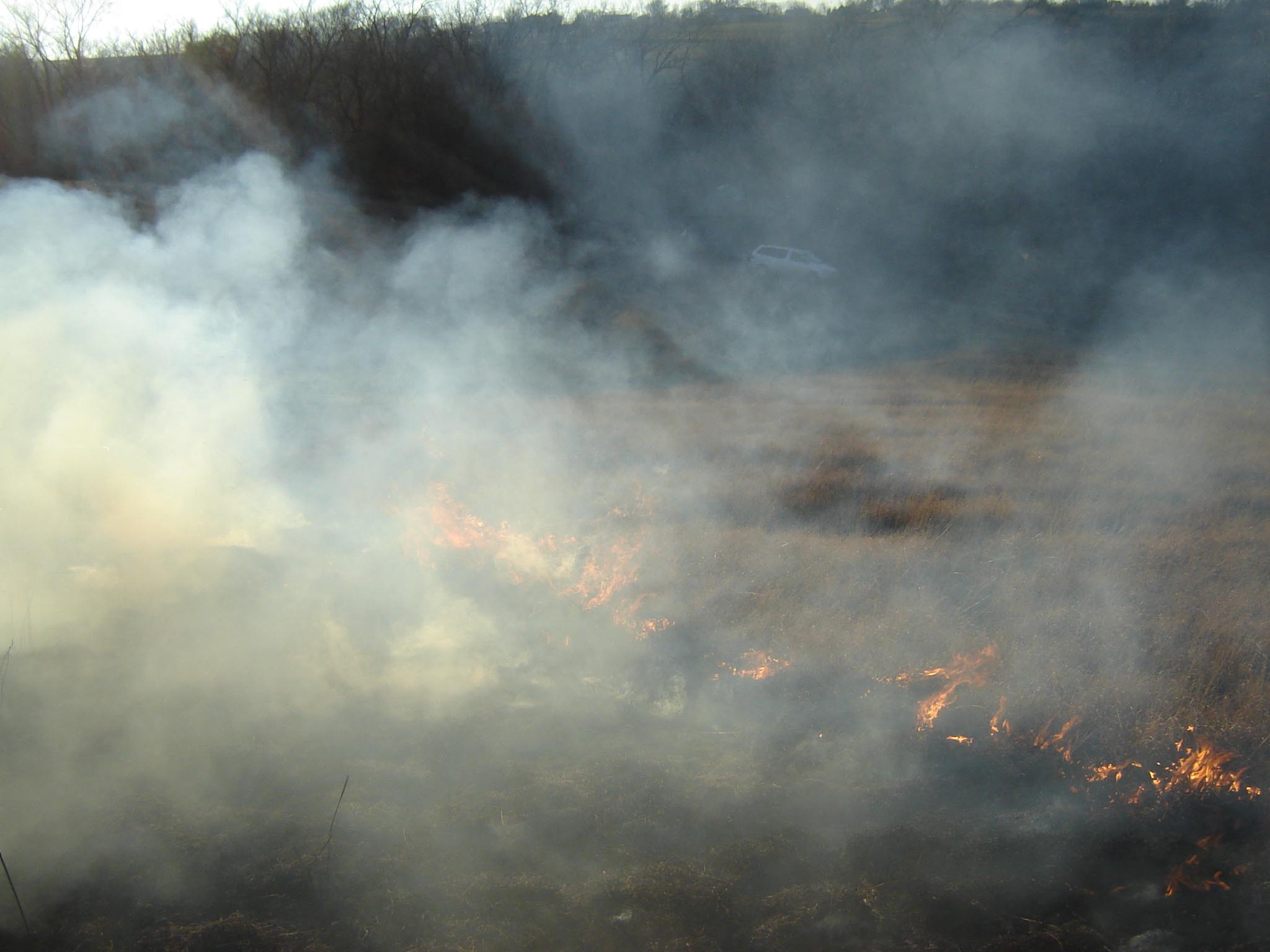 We had a campfire last summer that seemed to be out. Overnight a log smouldered and caught the native grass on fire over 14 hours later! The thing I learned from that was to never take any chances at all with a camp fire, and that wild fire can be very selective and jump and burn in a kind of non-intuitive way-- that is, until you get some experience. The grass comes back envigorated in a matter of a couple weeks.
To learn more, I talked to a ranger at an area wildlife refuge. They burn their grass continually and even hold workshops and classes. After speaking with them, I was directed to a website with a checklist for planning a 'prescribed burn'.
I tried to be as safe as possible and followed most of the recommendations. I mowed some fire breaks, alerted the neighbors with a friendly letter in advance. I met with the fire chief and got a burn permit. I bought a propane blowtorch and a couple of 400' lengths of hose. I also planned out the area with a small, 'experience -getting' patch on which to start.
In addition those above things, I got ahold of a couple of used fire suits, a couple of rakes, and made sure we had someone to run up to the top of the hill where we could get cell phone reception in case of an emergency.
Well, they say to not burn if the wind is over 15 miles per hour. One fireman told me to burn uphill from the half-way point, the other one told me ( at a different time) to burn it downhill. The bottom line is, you have to get some experience, safely, to start to understand what to do under the circumstances you are given.
Take it slow.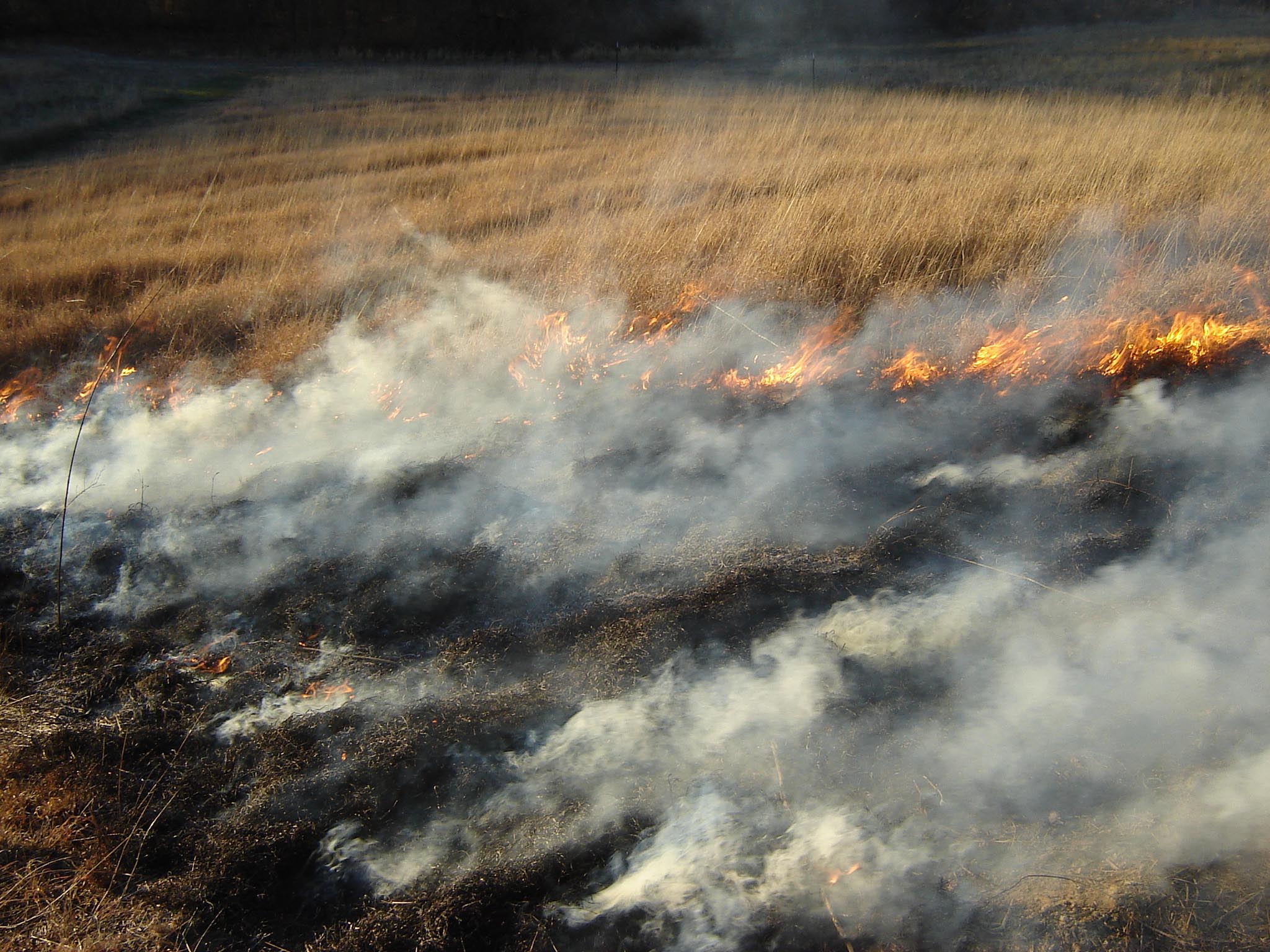 Fiery Steed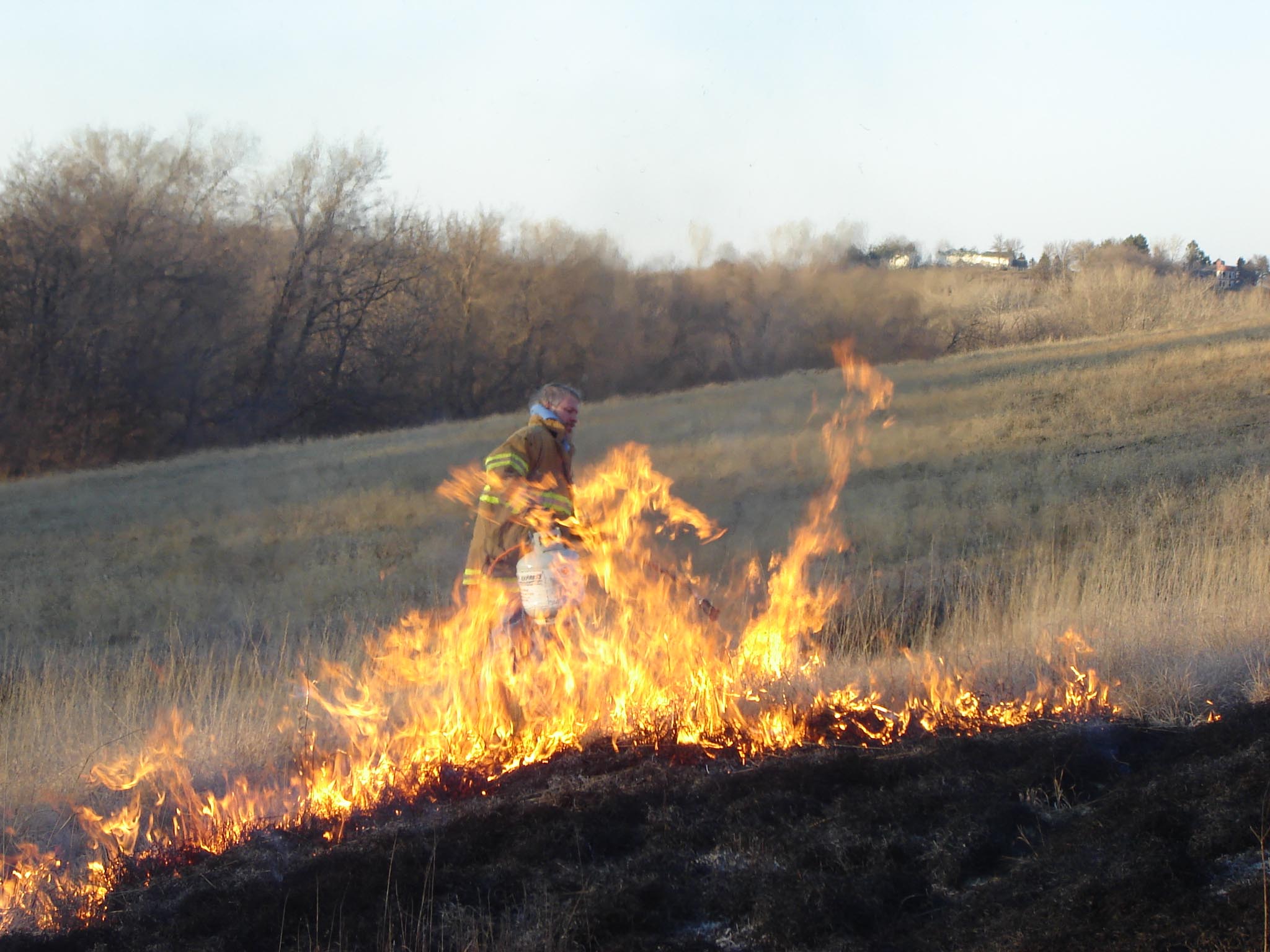 As the year grew later, the days shorter, I wanted to try out a burn before winter. We did have a thin snow cover a few days before, but the temps got high enough to thaw out the hoses and melt the snow cover off. The wind was right around 13 miles out of the southwest. I was told to call the dispatcher when we started the fire, so I asked her for the wind conditions at the time.
I was tempted to put it off for a more calm day. My small patch to start with seemed to loom large when faced with the possibility of a 20 foot blaze controlled only by my family and me. I actually decided to burn something about one tenth as large as my starter patch. To my surprize, it was kind of hard to get it going. Even with the propane blowtorch, it took a few blasts and kind of 'fizzled'.
This gave me the confidence to try the starter patch. Well, a weed called Mare's Tail was my main nemesis this year. I really wanted to scorch it. Unfortunately, I practically had to rake each weed carcass into a fire to get them to burn! The yellowed out dried grass was a different story. It actually started to flare up a bit, but with two hoses, two rakes, a mowed path inbetween and six people, we quickly kept the other areas from burning.
A large area of weeds was something I wanted to burn as well as the grass, and I had a few pine trees started in there too, which I wanted to keep from the fire. I tried burning around them after dowsing the small trees first. Again, VERY difficult to get much to burn up there. Finding it so difficult to burn at the top of the hill was actually good news. If it didn't start up easily with a propane blowtorch blaring at it, it probably would be an O.K. fire break. As it turned out, the fire never even got close to that area.
Time for lunch. After using up the propane in my tank, I went to town for a re-fill. As of yet, our burning experience was pretty tame. I had burned an area around the small trees to keep them from having fuel(unburned grass) around them.
With an eye to burn an acre of native grass and only two hours of daylight left, I started up the hill with fresh fuel. I had tried unsuccessfully to burn weed patches, but the grass would be a different story. I started with a corner at the top which, when burned, would be a terrific fire break to the south. I decided to TRY burning downhill and against the wind.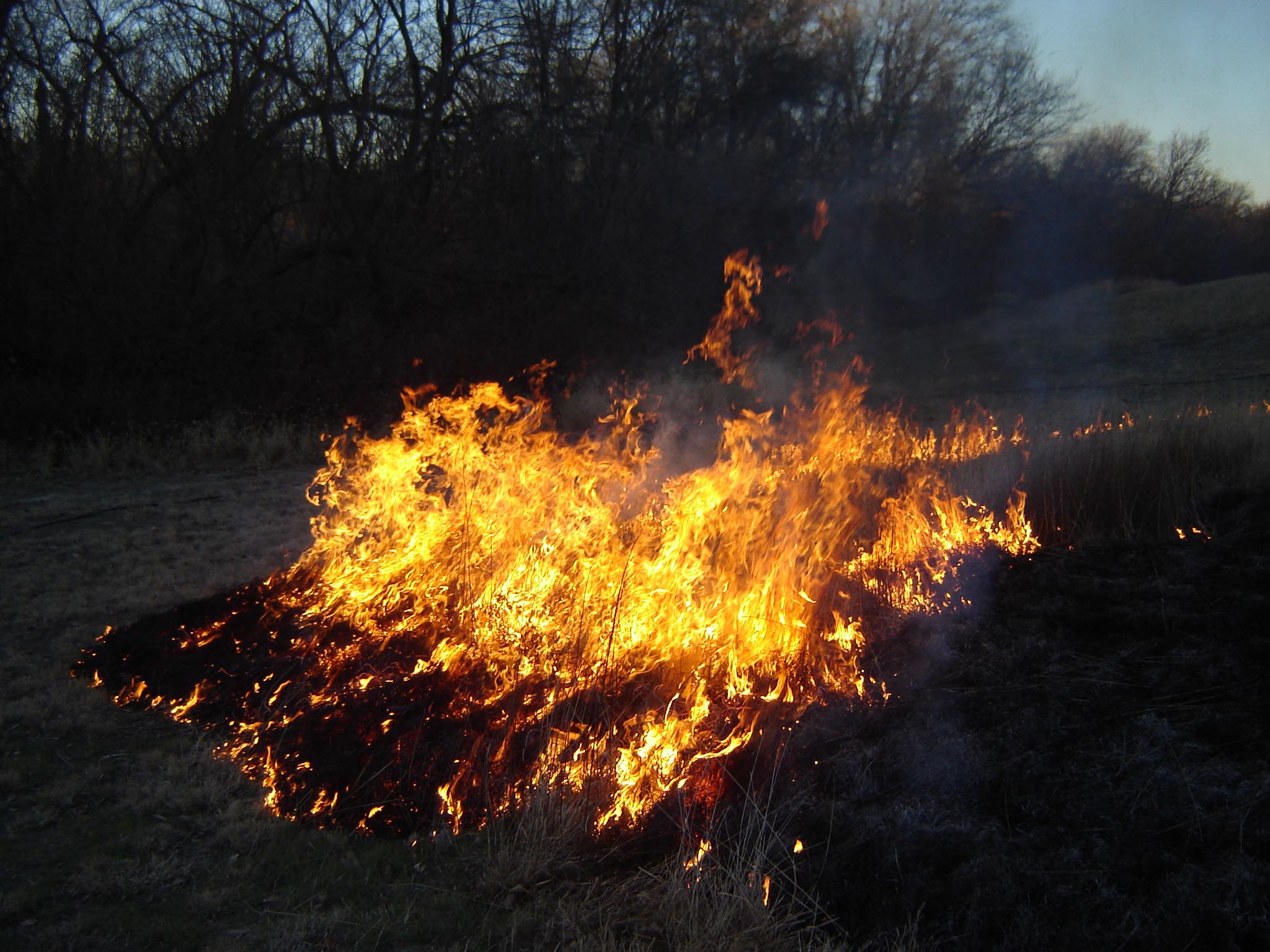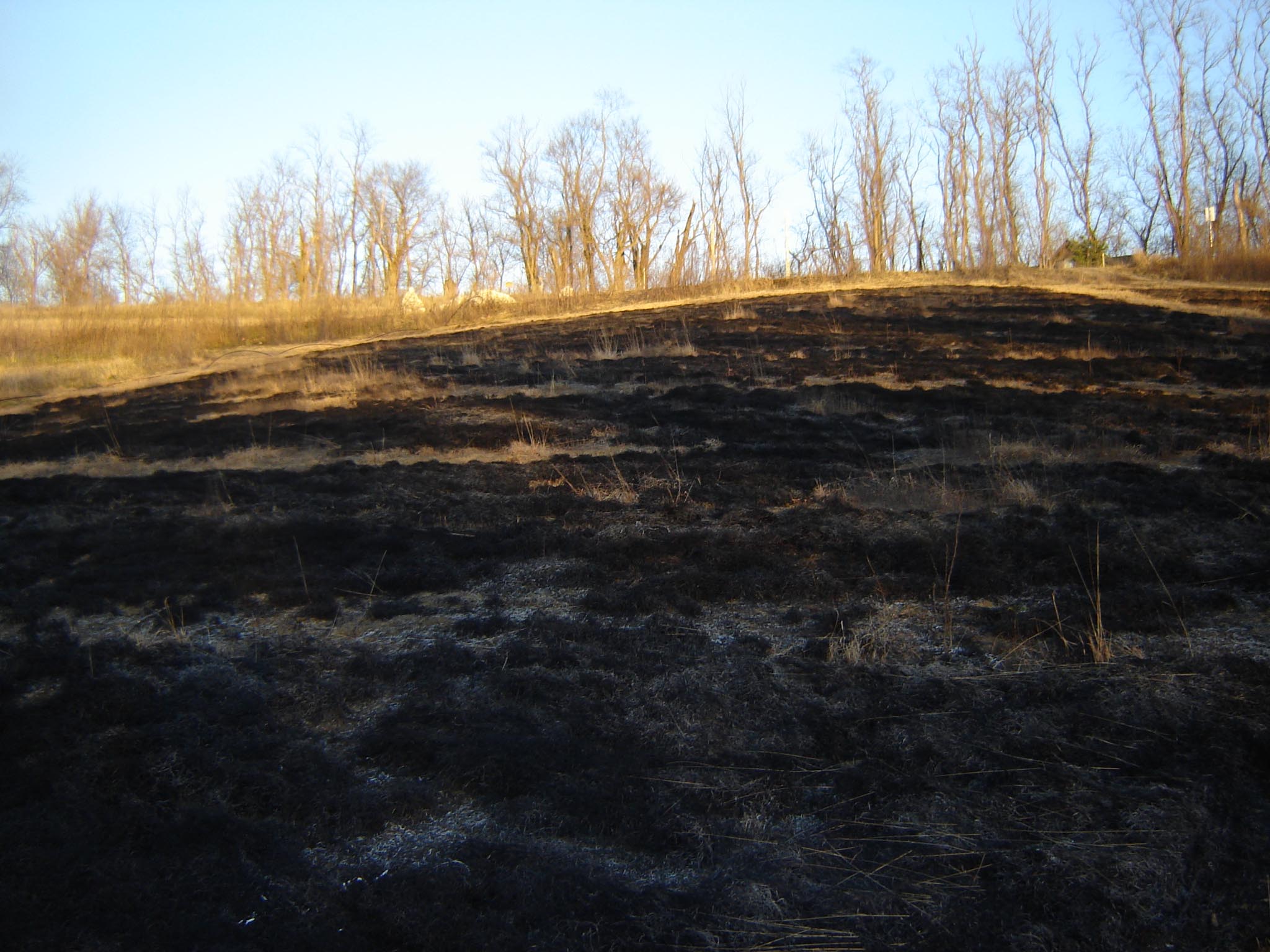 After the Fire.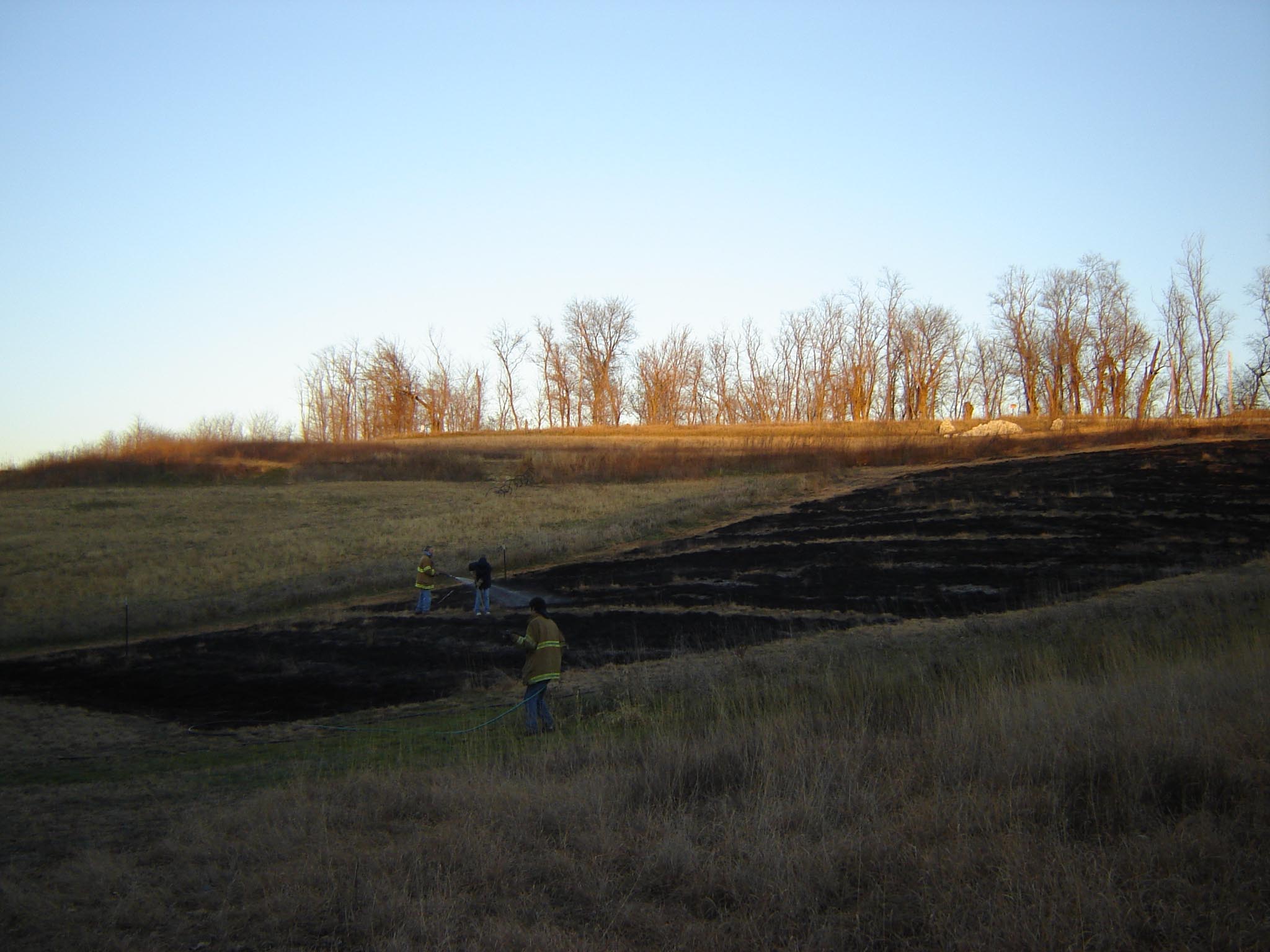 Just like landing an airplane, you want the resistance of the wind to slow you down. Burning into the wind allows you to burn slowly and more thoroughly. That was what seemed to work the best, however, at the bottom, I lit the whole remaining patch and burned to the middle.

One thing I would recommend ( I plan to use it next time) is a pair of safety glasses to keep the heat from singeing the eyebrows. I felt like I boiled my eyeballs a bit while 'lighting up' the grass.

It may be different in other seasons. Perhaps in the spring the moisture content will be so low that the grass burns more violently. With higher ambient temperatures, the chances of flashing across may be more of an issue. So, it seems November was a good way to get some initial experience.

In the spring when the ashes fertilize the ground and the grass grows back from the extensive root system it already has in place, I will observe how this burn affects the hill and report back to you.