Bach Inventions set to jazz, a symphony based on the digits of pi, stone carvings in marble or limestone, a cartoon manatee named Hugh, and the Burt St. Boys ( a family jazz ensemble) are some of Lars' current endeavors.
Celebrate Pi Day March 14th, (3/14) at 1:59PM
The Europeans will not be able to celebrate this day because they intelligently spell the date with day, month and year, unless they add a 31st day to April. No wait, it could be the third of January at 4:15 --hmm.
You see, the digits of pi (3.14159265358979...) are spelled out in the moment on 3/14 at 1:59pm, year 2653. I wonder what life will be like then. Well, anyway, here's a snippet of what life is like now.
...as of February 1, 2010
The Burt St. Individuals will play the 'Music As Medicine' concert at noon on Thursday February 18, 2010, at the University Medical Center. It may not be as easy to bring this show together in coming years with Alek and Emma going off to UNL this fall.

From now on it is house building, house building, house building. There is a party for Restore Omaha, where we are scheduled to perform on the 5th of March. Jazz and a party at a warehouse/building somewhere.

The Burt St. Boys are now the Burt St. Individuals. Over the past two years, my daughter, Helen, has learned quite a bit of sax and clarinet. She has been with us as part of our group.

Alek will have a show of his own, featuring himself, Alex Hotchkiss, Adam, and even me( on harmonica) perhaps, doing mostly original songs of Alek's own hard driving style. For years Alek and Adam have made up songs wailing away in the attic here on Burt Street. Their little group, the Razors, is sharp and edgy.

Pi Symphony is one step closer to a performance these days. More than one possibility is in the works. I will post details when they become set. I will say this about the process. If I had known how difficult it was to get orchestral works performed, I might have chosen some other form of self imposed torture. I am meeting some wonderful people in the process, though, and I am confident my work will be heard and appreciated.

Feel free to roam around here in my 'Creative warehouse' If you decide to make a purchase of a CD, just visit the Music Store and ask for Lars. I have been cleaning it up a bit, and straightening out the displays. It really is the best way to buy music, directly from the artist.

You can email me here if you like. I love to hear from people who read my page.

A Toothpick Bridge Project

I started another Toothpick Bridge Project

with my son, Alek. Here's a link to a page describing our efforts. Since we have posted this, I have helped people all over the world with questions about toothpick bridges.
The Pi Symphony.
The Pi symphony is an orchestral work whose melodic content is derived from the transcendental number Pi. The base of the natural logarithms, 'e' is also used as a melody. One goal is to get a performance of The Pi Symphony. By purchasing an electronic version of Pi, Your name will appear on the first page of the master score for all time and you will get a CD of the synthesized version. If you want to be a part of the Pi Symphony, use the e-Mail link to contact me

You can purchase a copy of the Pi Symphony with confidence from a secure credit card site that is every bit as wonderful as some south american river sites, only there is no ridiculous mark-up, so you pay alot less ( and enjoy it more! ) Other CD music releases are available as well, all in the tiny virtual music store whose link is in red. Or, buy a CD now and receive the sythesized rendition of Pi Symphony

Buy a CD now ! $15.00
Stone Sculpture
For a couple years now, I have been pursuing stone sculpture. I am concentrating on realist portraits in limestone. Check out some examples. An accurate representation can take up to 8 hours of 'sitting' which happens in roughly three sessions. The result is a life size 'head' which usually weighs about 100 lbs. in solid limestone.

Why not get a head? Stone is cool.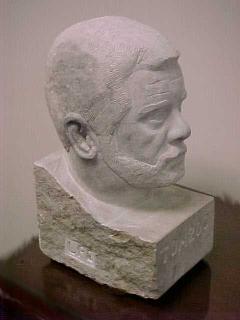 Altered Inventions was released in August of 2002. It is a collection of Bach 2 & 3 part inventions arranged for jazz. Many are performed in altered time signatures and recorded digitally with classic jazz instrumentation - Piano, Bass, drums, flute.

Check out the samples. This collection of songs is packaged with a cover design using a stone self-portrait. 'Altered Inventions'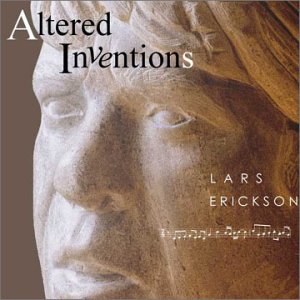 When my son, Alek, was about 12, he started playing the bass, and Adam, my 5-year-old began keeping time. Together we are:

The Burt Street Boys, a be-bop jazz trio.

After playing our first professional engagement in May 2003, the playlist has grown and the boys' talent has too. After playing three sets nearly every weekend in the lobby of a large lodge retreat for about three years, we now play concerts and regular jazz gigs.

In 2008, Helen, then 14, starting working with us on the clarinet and alto sax, and in 2009, we made a slight change to the band name, Burt Street 'Boys' became The Burt Street Individuals. Here is a very 'web quality' video of one our practise sessions from summer of 2003

'Stayonit'
'Moondance'
'Darn That Dream'
'Barbados'

Scrapple from the Apple...ala 2007

A little ditty Alek and I wrote the other day

Here's a current JAM Video 2007

Daily Jam ...Apr.29.2008 This is just a little 7/4 jam with my favorite drummer, Hootie. ( aged 11)

In 2006, I invited the daughters to join us (we still are called the Burt St. Boys) on clarinet, cello and flute for a concert in Omaha.

A rare vocal, a song I wrote when my brother was dying a cancer. It's called I Already Miss You

I guess there is no question about it, people want to hear a voice, even mine once in a while. I wrote this song of thanks, which I can say was written for quite a few influences in my life.

My son, Alek, is doing some writing and playing. Here are a couple of his songs that he plays, quite matter-of-factly. Never Fall In Love

Long ago in high school, there was girl named Mary O'Keefe...

A today it is her birthday...

Happy Birthday Take one

Happy Birthday Take two

Happy Birthday Take three

Happy Birthday Take four....

...had to stop playing because Emma just had her wisdom teeth out and needed quiet.
<!********************************> Hugh The Manatee
'Hugh the Manatee' is a cartoon character who is the personification, or should I say 'Animation' of humanity. If Hugh symbolizes the slings and arrows of humanity, his many supporting characters are those slings and arrows. Polly Tickle , Albert Ross, Ida Clair,Miss Apres Hensen, Rosetta Stone, and Terrence ( a dog) are just a few of his many friends.